LAKESHORE PSYCHIATRIC HOSPITAL CEMETERY MEMORIAL – SUNDAY OCTOBER 22, 2023
Royal Canadian Legion Branch 643 is participating in a community organized memorial at the Lakeshore Psychiatric Hospital Cemetery on Sunday October 22, 2023 starting at 10:00 am. The purpose of the memorial is to remember and honour the 1,511 people buried there including 24 World War I Veterans and 13 Indigenous People.
The Lakeshore Psychiatric Hospital Cemetery, located at 231 Evans Avenue Etobicoke, is the final resting place of patients of the former Lakeshore Psychiatric Hospital which was located on the current Humber College Lakeshore Campus at Lake Shore Blvd W and Kipling Ave, Etobicoke. The Cemetery has been closed since 1979. The memorial is planned to be about 45 min in length. All are welcome to attend.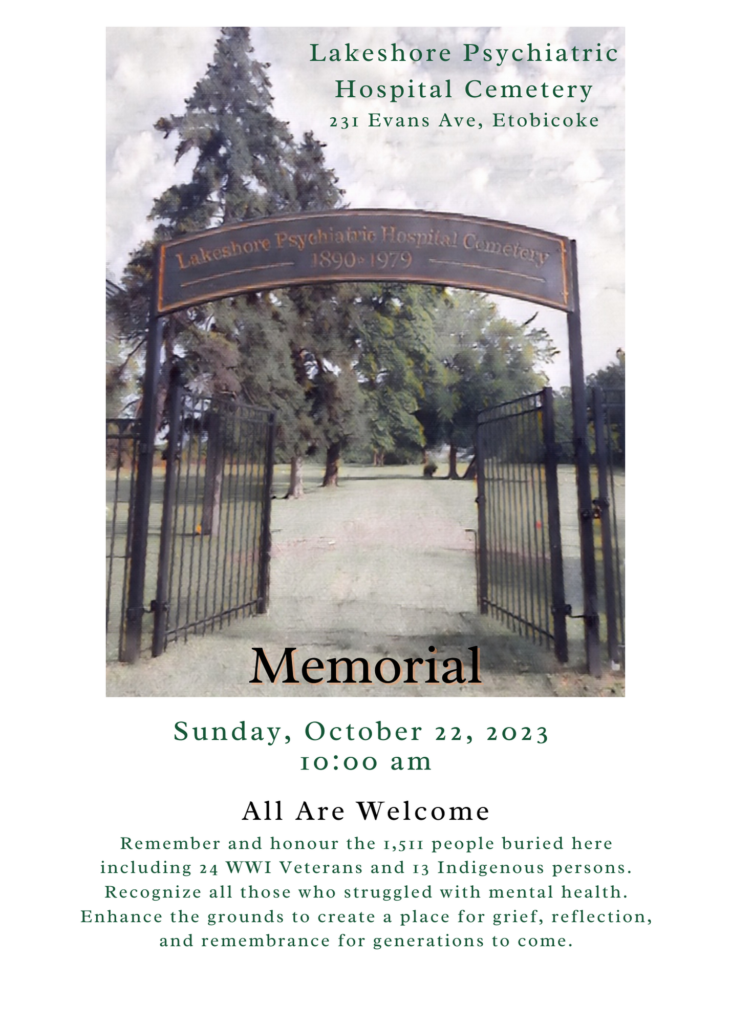 ELVIS NIGHT – ROYAL CANADIAN LEGION BRANCH #643 SAT OCT 28, 2023
Back by popular demand! Elvis Night, Dinner & Entertainment is coming Saturday October 28, 2023 with Dinner starting at 6pm and Live Entertainment starting at 7pm until 11pm. Cost is $20 per person. Tickets are available at The Clubroom Bar, Royal Canadian Legion Branch 643.
TORONTO ARGONAUTS, CANADIAN ARMED FORCES AND VETERANS APPRECIATION NIGHT – SAT OCT 14, 2023
The Toronto Argonauts Football Team is holding a Canadian Armed Forces and Veterans Appreciation Night on Sat Oct 14, 2023 starting at 7pm. Serving Canadian Armed Forces personnel, Veterans, Cadets, Veterans Organizations, and their families are invited to attend. Branch 643 has secured up to 50 tickets (seats are all together) for the game between Toronto and Ottawa at a reduced cost of $36.00 (Tax Included) each. To show our thanks to our Branch 643 Veterans, the cost of a ticket for them is further reduced to $18.00 (Tax Included). A minimum of 10 tickets/participants (all members are invited to participate) are required to send a group representing Branch 643 to the game. Deadline for ticket purchases is Sept 12, 2023. To purchase tickets or for more information, contact 1st Vice President William (Bill) Law at w.j.law@rogers.com.
MEAT SPIN IS MOVING TO FRIDAYS – JULY 14, 2023
Win $10 or $20 Grocery Gift Cards at the Meat Spin. Each $10 number gives you multiple chances to win! Starting Friday July 14th, The Meat Spin is moving to Fridays at 5:00pm. The Branch is open Fridays starting at 1:00pm, so come for lunch or dinner and stay for the Meat Spin at 5:00pm, followed by Karaoke at 7pm. The Branch will be closed Saturdays but will be open at 5pm on Saturdays for announced special events such as dances.
KARAOKE WITH RANDY – FRIDAYS FROM 7PM-11PM JULY & AUGUST IN THE CLUBROOM
Upcoming dates; July 7, 14, 21, and 28, August 4, 11, 18 and 25, 2023. Fridays 7pm to 11pm. Free Admission. Kitchen open 1pm to 7pm.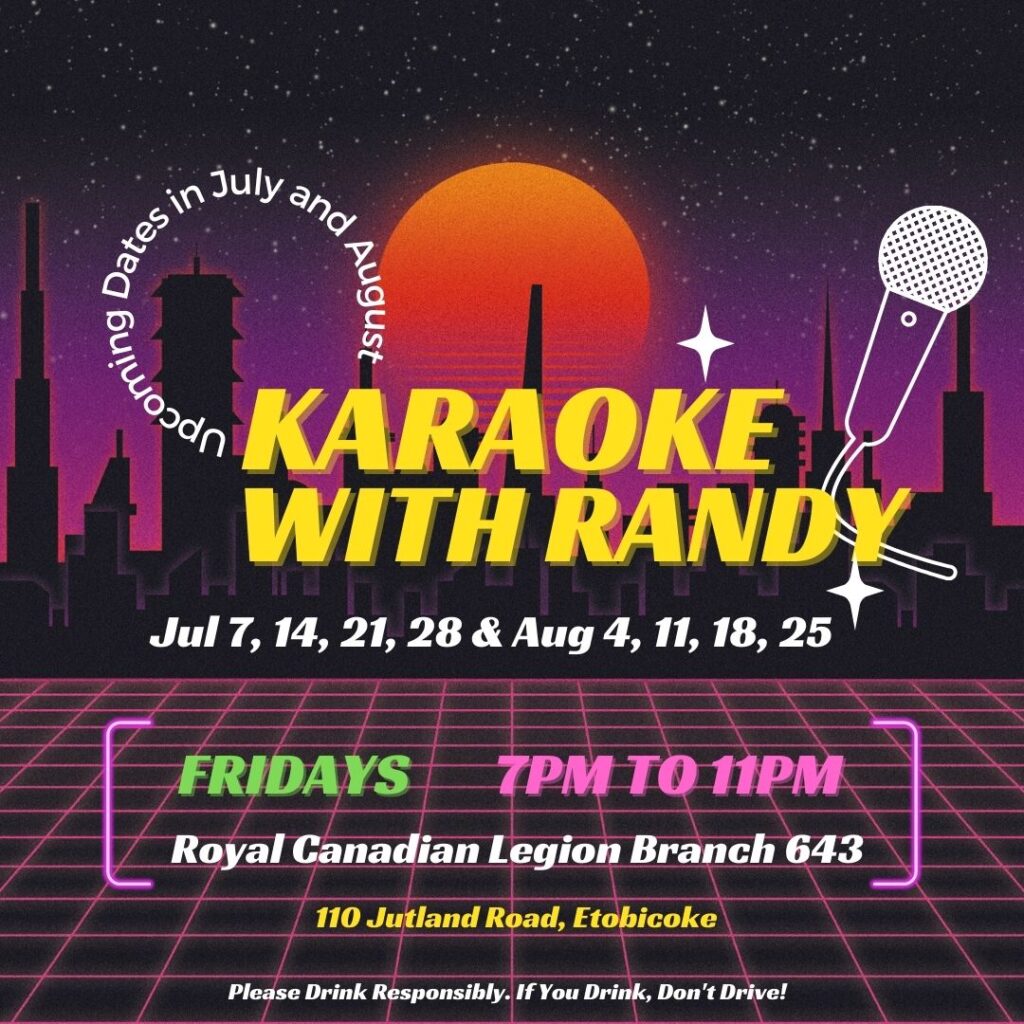 UPCOMING BOGDAN'S DANCES – JULY & AUGUST IN THE BANQUET HALL
Upcoming dates for Bogdan's Dances July 8, 22, and 29, August 12, 19, and 26, 2023. Saturdays from 7:30pm to 11:30pm (Doors open at 6:30pm). Admission $10.00 at the door. Enjoy an evening of music and dancing! 50/50 Draw and Door Prizes.